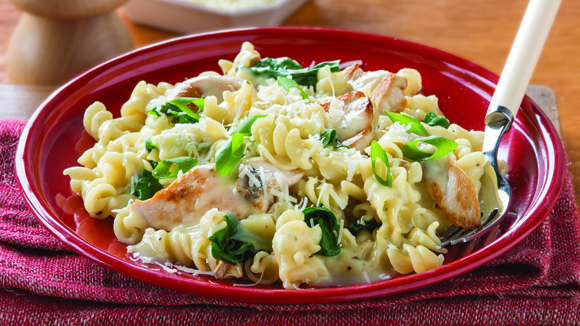 Chicken Pepper Pasta Recipe with Spinach & Parmesan.
Put together our simple and tasty chicken pepper pasta recipe with spinach & parmesan in just 20 minutes. Serves 3-4.
Recipe serves:

3 to 4

Preparation time

5 min

Cooking time

15 min
Ingredients
2 teaspoons olive oil
400g skinless chicken breast, trimmed and sliced
1 Value Pack* Continental Creamy Mushroom, Garlic & Black Pepper Pasta & Sauce
1 1/3 cups (330mL) reduced fat milk
1 cup (250mL) hot water
3 cups baby spinach
2 tablespoons finely grated Parmesan
Directions
Heat olive oil in a large saucepan or fry pan and brown chicken.
Add Pasta & Sauce, milk and water and bring to the boil. Simmer for 10 minutes, stirring regularly.
Stir through spinach a few minutes before the end of cooking. Sprinkle with Parmesan before serving.
Hint: Top with sliced spring onions.

*If Value Packs are unavailable, replace with 2 Standard Packs and increase the liquid added to 1¾ cups (440mL) hot water and 1½ cups (375mL) reduced fat milk.